What are the different types of gas boilers?
When it comes to choosing the best type of boiler for your home there are a number of factors which need to be considered such as the size of your home, the number of bathrooms, showers, baths, the localities water pressure, and when the house was built. In this post well delve into the three most common types of gas boilers used throughout Dublin & Cork. In some cases, you won't actually have much of a choice on the type of boiler which can be installed based on the above variables. Nonetheless it is worthwhile knowing the different types of boilers and their advantages/disadvantages etc. We had a customer recently who opted to change from a system boiler to a combi boiler based on an article that we wrote.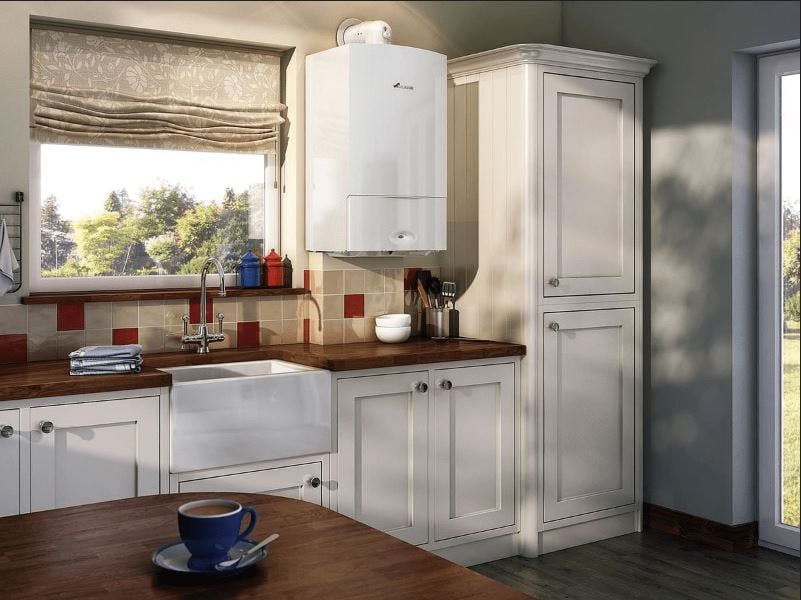 CONDENSING BOILERS
Every gas and oil boiler installed in Ireland's must be a condensing boiler by law regardless of whether it is a combi, regular or system boiler.
Condensing boiler work by condensing water vapour in exhaust gases which recover latent heat that would otherwise have been wasted or vaporised through the flue.
Condensing boilers are also known as high efficiency boilers and achieve in excess of 90% efficiency. This means that for every €100 you spend on your heating bill, less than 10% will be lost and €90 will go toward heating your home!

If your boiler is older than 10 years old it could be operating at as low as 60% efficiency, meaning that for every €100 you spend on €40 could be wasted!
Regular Boilers
System Boilers
Combi Boilers
Regular Boilers
Regular boilers also known as open vented or heat only boilers, are made up of both a cylinder and a hot water storage tank. Regular boilers can supply large volumes of hot water to a number of bathrooms, making them a great option for larger houses and families. Regular boilers are best suited to homes that are already using a traditional heating and hot water system that is connected to a separate hot water cylinder. Regular boilers need a cold-water storage tank in the attic feeding the cylinder and an additional tank which ensures the water level in central heating system is maintained
If you have a regular boiler already in place that needs replacing it best to change like for like. This will be cost effective and ensure the system works efficiently going forward. Regular boilers are compatible with solar heating systems.
Advantages of a regular boiler for homeowners:

Can use more than 1 hot water source at the same
Can be used in areas with low water pressure
Compatible with solar systems
Disadvantages of a regular boiler for homeowners:
A hot water cylinder & storage tank are required
You will need to wait for the water to heat up
The system can run out of hot water
System Boilers
System boilers require a hot water storage cylinder, however they do not need a water tank. They also have a pump and expansion vessel built in which eliminates the need for a header tank. System boilers are suited to properties with more than one bathroom, properties without an attic and for those converting attic spaces.
Advantages of a system boiler for homeowners:
Economical to run
Constant hot water to any number of taps
No storage tank required in the attic
No need for an expansion vessel
Compatible with solar systems
Disadvantages of a system boiler for homeowners:
You will need to wait for the water to heat up
Hot water can run out
The size of your tank will determine  how much water you can use
Cylinder is required
Combi Boilers
A combi or combination boiler is a high efficiency water heater as well as a central heating boiler in one, hence the name "combi". Combi boilers heat water coming directly from the mains so when you use your taps you can have hot water. It also means you do not need a water cylinder or a cold water storage tank in the attic.
Combi boilers are generally the most efficient type of boiler on the market in terms of energy usages and cost. This is largely due to the fact that hot water does not need to be heated and stored as the boiler heats water on demand!!
Advantages of a combi boiler for homeowners:

No hot water cylinder or storage tank required
No waiting time for hot water or  heating
Compact in size
Less pipework throughout the property
They provides powerful showers without pump
Less pipework throughout the property
Great for apartments
Disadvantages of a combi boiler for homeowners:
Not ideal for homes with low water pressure
Two baths/showers cannot be used simultaneously
Not ideal for larger homes
Leaks can cause loss of water pressure
May not be suitable for use with power showers
Water flow can be reduced as the water is heated