Two Years Free Servicing Worth €200
Due to the high demand for our two years free boiler servicing offer, you can now pay your deposit online via our secure payment gateway.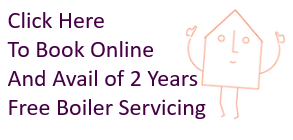 Simply book your boiler installation online with a fully refundable €99 deposit before the 27/01/2020 and receive two years free boiler servicing worth €200.
Our team will contact you on Monday the 27/01 to finalise your installation date.
Why is getting your boiler serviced so important?
Keeping your boiler serviced annually is vitally important to extend the life of your boiler and make sure any problems are spotted before they happen.
Servicing ensures that your boiler and other appliances are running efficiently and safely, giving you and your household peace of mind. A regularly serviced boiler will be up to 10% more efficient and could save you money on your energy bills.